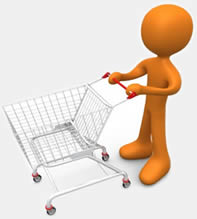 E-Commerce Solutions
Selling products and services online has become increasingly important for doing business. Not using the internet to sell means missing out on the biggest market ever. As many of you have likely noticed however some online shopping experiences can be less than enjoyable. Providing a smooth shopping experience to your customers by using an up to date e-commerce system means your customers won't have trouble navigating or purchasing your products. Inova utilizes the most up to date, proven and cost effective e-commerce solutions available today, such as osCommerce, VirtueMart, Magento, Zen-Cart and BigCommerce. Our shopping cart solutions do not carry high monthly service fees for basic service (some are even free) and we pass this savings along to you.
E-Commerce Features:
Full SSL security support. Your customers information is safe and secure.
Offer coupons and discounts – also tiered pricing and shipping options.
Full integration with UPS, USPS, Fedex and DHL – Automatic update of shipping prices and tables.
Add items to wishlist – Your customers can then email to friends and family.
One installation is able to handle multiple sites.
Integrated SEO – Simple editing of key SEO page factors such as meta tags and titles.
User generated content – Built-in tagging, reviews and ratings.
Inova Web offers secure SSL hosting for our E-commerce clients. This technology is necessary for safe and secure transactions between you and your customers. Get SSL and a dedicated IP address for half the price of our competitors, as low as $75/yr!

Guaranteed Security!